El Toro Premium - ours exclusivey!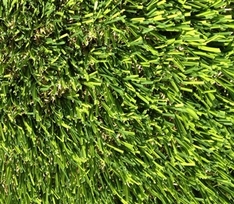 El Toro Premium was designed by NyLawn to blend in with Hawaii's natural grasses.
It is Exclusive to NyLawn!
Specifications:

Polyethylene monofilament and
polyethylene texturized blend
Pile height: 1 3/4" Total weight: 120oz
Primary backing: stabilized woven

polypropylene/polyester blend
Secondary backing: 20oz polyurethane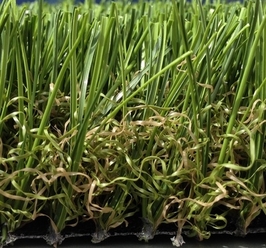 This side view of El Toro Premium shows the blades in 2 different shades of green including a spline down each blade, just like a real blade of grass, that gives the blade a natural look and more strength. The tan and green thatching gives the turf a natural look and feel, plus helps to keep the blades standing up.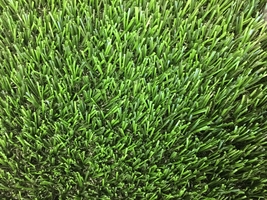 This is our preferred dog lawn and for high traffic areas. It has a stiff blade and is 1 ¼"
Specifications:

Polyethylene monofilament and
polypropylene texturized blend
Field/Clover

Pile height: 1 1/4" Total weight: 97oz
stitch gauge: 1/4"
Primary backing:
stabilized wovenpolypropylene/polyester blend
Secondary backing: 20oz polyurethane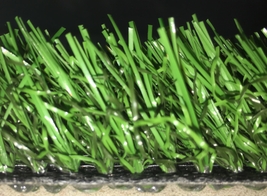 The side view of the El Toro Fresh Cut
shows the two different shades of green blades. You can also see the dense thatching also has two-toned g

reen,

coarse blades, giving it a very natural light green look.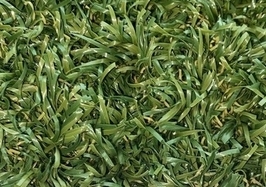 SoftLawn Barefoot Comfort polyethylene stalk yarns are designed to lay in several different directions to provide a realistic look and super soft feel. It is also designed to require less infill making it ideal for landscapes and putting green fringes.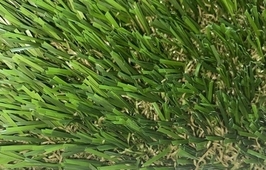 SoftLawn® Island Pro features a four color blend of Field/Lime stalk yarns with an Olive/Tan thatch to provide a lifelike appearance and feel.
Yarn Type: Polyethylene
Weight: 82oz per sq. yard
Pile Height:1 8/32″ +/- 1/8″

PDF Spec Sheet:

SoftLawn Island Pro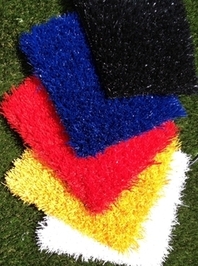 SoftLawn® EZ Play Colors is a signature playground product with a thatch layer for added body, reducing the amount of infill required. The four color blend of this surface provides an authentic look and feel that resembles a natural lawn. This turf is ideal for school yards, playgrounds, landscapes, pet facilities, golf fringes and sports fields.
EZ Play Colors comes Black, Blue, Red, Yellow, White and Green.
Polyethylene monofilament and
polyethylene texturized blend
Weight: 87oz per sq. yard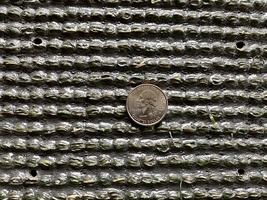 The Silverback™ coating saturates the primary backing of the synthetic turf and effectively locks the fiber tufts in place. While most polyurethane backings are a simple coating over the primary backing, Silverback™ actually penetrates into the base, surrounding every stitch and interlocking the fibers into the primary backing. This process leaves you with a superior base well above the industry standard.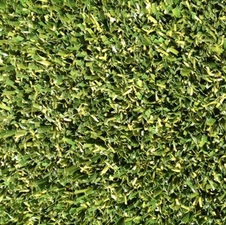 STI's NP55 is the only option for true roll, realistic green speeds, and a look that rivals any natural green. The latest technological advancements have allowed STI to improve upon its world famous non-directional nylon putting surface NP50. While this product performs best with sand or ceramic infill, this product can be used without infill, which is ideal for indoor and portable applications.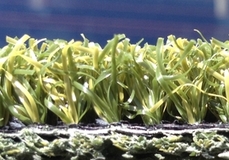 The new two-color yarn combination gives NP55 a natural look and performance that cannot be found anywhere else. Although NP 55, is our preferred putting surface, there are many to choose from that can be special ordered.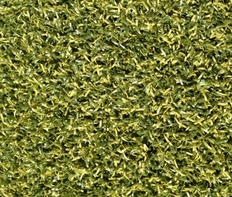 Bluegrass fringe is ideal for putting green
fringe or applications where a very short
pile in needed.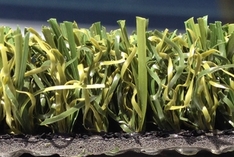 The two-toned Bluegrass fringe makes for a natural looking grass. The backing is not perforated.