This warranty shall cover ALL installation completed after April 15, 2009.
NyLawn hereby offers a Three (3) Year Limited Warranty on Residential and Commercial Installations to the End User.
The Installation must have been completed by The NyLawn Professionally Trained Staff. This Warranty shall cover the repair of the Turf and/or Aggregate Base due to movement or shifting caused by natural causes and normal wear. The Warranty shall cover the repair of any problems with the Turf or Base that causes poor drainage or "ponding" on the surface for an extended period of time. The Warranty shall cover the repair of any seam that may delaminate or fail. The Warranty does not cover issues that were caused by floods, hurricanes, tsunamis, vandalism, and excessive wear, cuts, tears, burns, and pulls caused by improper use, or improper cleaning agents or methods, removal of turf from its original place of installation,
or incidental or consequential damages.

Testimonials from Happy Customers
Our el toro premium turf looks even more beautiful than anticipated. Our friends and family had such glowing things to say about it...some even thought it was real grass!
Hi Rory! Thank you so much for the beautiful job! I love my pool area again!
Veronica - Kaneohe August 2014
Rory, Your guys were very professional in the work they did here at my house. It came out beautiful. I also really appreciate you getting it done before Sat.
Thank you very much. Michael 6/19/2014
I've been in "customer service" since I was 18 years old so I have high standards & appreciate great customer service. I love the turf, my dogs & grandsons had a ball running on it. Thanks again & I hope this is the last time I have to replant anything!!!!! Irene 5/15/14
NyLawn is a world class company with a finished product that exceeded my expectations. Cant wait to do my front lawn area. Danny 10/13/13

If you don't like yardwork or would like to save time putting in this product is the way to go. It is a very good product and on top of it all it looks beautiful. we get comments on it all the time. Your staff is wonderful. I enjoyed working with them. they are the most courteous and respectful. The installers are so nice and very professional. They also show you what they are doing. Gwen 10/11/13


Calvary Episcopal Church & Preschool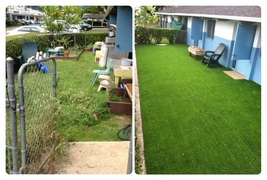 Just wanted to write and tell you how pleased we are with the turf. What a difference it makes. The yard is now inviting and the children will have a great time on it. Thanks also to the great crew you sent out. They were very efficient and were very pleasant to work with. We appreciate you having the crew fluff up the grass in the center playground. (previous installation) It looks almost brand new again. Thank you so much for providing us with such great service.

Aloha,
Nella Sword
Church & Preschool Administrator
Calvary Episcopal Church & Preschool
August 2013

"Just writing to let you know that everything looks GREAT!!! The crew was absolutely professional, answered my "dumb" questions with patience, and did a fabulous job. Thank you again for the time you spent explaining everything and scheduling us so quickly. We're NyLawn believers!! ~Tammie June 2013

Dear Rory, It wasn't long ago that I called NyLawn to ask for info about the product-- and you answered the phone. You were very informative, encouraged my interest and referred me to your associate Lia for more information.
I'm gazing at the picture-perfect (and very realistic) backyard landscape that was recently installed by your competent and artistic staff Clito and Xandro. We couldn't be more pleased with this wonderful solution for my family and me!
It's beautiful, but that's not all. With a severe grass allergy, I could never sit on the grass before, but now...I'm wrestling on it with my dog! When she jumps in and out of the pool, there are no muddy bogs to repair, and no mud and grass in the pool!
The installation was a delight to observe, with Clito and Xandro working so efficiently together. Your staff is not only hugely competent and hardworking, but artistic in their application. There are little tufts of grass poking out from behind rocks! It looks so lifelike. They're helpful, considerate, clean and ultra professional.
Lia was constantly checking on us and making sure we were prepared for the crew to arrive and then satisfied with everything. She was prompt in responding to phone calls and made your company feel warm, caring and kind. She has nothing but positive things to say about the people she worked with. and made us feel confident with our choice.
So thank you very much for your excellent product and service. We will be highly recommending you to friends and neighbors!
Mahalo Nui, The Tokumura's Hawaii Kai May 2013
Appreciated the fast and professional service you did on our lawn. Will recommend your services to others. Thank you!
Rory, it's been 2 years and we are still so happy with the lawn. Best home improvement I've had done so far. Thank-you!

Jason 6/23/2012

Hi Rory,
The installation went perfectly today. Your crew was very personable, able and enjoyable to have around. My former desert looks like an oasis.......Thanks!!

Aloha, Dave August 7, 2012
oha, Dave
Thank you for such a wonderful experience. Great group of people with super attitudes and work ethic!! We have seen lots of smiles these last two days from children, parents and staff. Looks great!!

Denise Acklin from Hoaloha Kai Montesorri School August 2012
Hi Rory, It has been over a year since you installed your grass in my cat sanctuary and I thank you daily for the much improved quality of our lives with such an incredible product. The cats love to lie on it in the sun, as well as sleep out under the stars....they have abandoned their cozy little fake fur beds for the cool grass....and when it rains, I no longer dread the mud on their paws, and mine...and no more puddles, as it drains with such ease. We rake up the fallen leaves every couple of weeks and just hose it down once a month... It is home turf to 100 cats and it looks and feels just as good as it did that first day. Pretty amazing! I cannot thank you enough!
Gloria Slaughter Hoku Lele Foundation August 2011
Rory, Thank you for everything. As usual, the job was excellent and the final product was beautiful. Annette & I really appreciate everything you have done for us and we will be your reference anytime. Cliff 7/05/2006