Photo Album Gallery Place Holder - Please wait while the Photo Album loads. If the album does not show, please refresh the page to try again.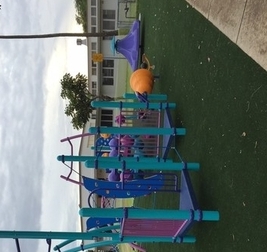 See Hawaii DOE article on their refurbished playgrounds. DOE article
The Hawaii Department of Education has been refurbishing playgrounds at campuses across the state. As of February 2015, upgrades have been made to playgrounds at more than 20 schools, with 13 in progress and on track to be completed by June.
The refurbishment program's approach is to reduce, reuse and recycle playground equipment, whenever possible.
The approach allows the Department to modernize playgrounds at lower cost, all while keeping the safety of children at the fore. After these considerations, the goal is to select the most exciting playgrounds to foster happy, healthy students with a ready-to-learn mindset.
A recent standard requirement of all refurbished playgrounds is the use of artificial turf to protect children from serious falling injuries.
PLAYGROUND SAFETY SURFACING
NyLawn's Synthetic Turf Playground surfacing is by far the best alternative for keeping kids safe and playground safety. Many schools, churches, parks and recreation areas are switching to the safer, more durable, artificial playground cover turf. A non-abrasive surface along with extra padding in fall zones, keep kids and parents happy. Our Artificial lawn comes in a variety of shades of green to suit your needs but also comes in colorful playground and park colors too. Environmentally friendly means kid friendly too, with no need for pesticides or fertilizers. Kids and parents love that there's no mud, rocks or sand. It's allergy free too!
Playground Safety Regulations
School and park playgrounds are required to meet National and State safty regulations. We are also Certified Safety Inspectors and ensure you that your playground surfacing will be tested with the Triax, playgound surface tester to ensure it meets the requirements for our children's safety.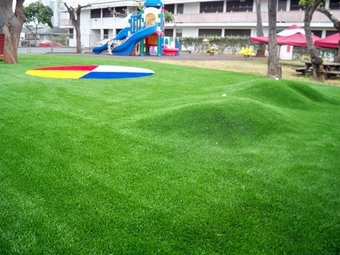 Makiki Christian Church Preschool
This Playground Safety Sports Turf and playground cover, provides a clean, safe area for kids to run around and play or create areas of organized play with this customized colored quarterd circle.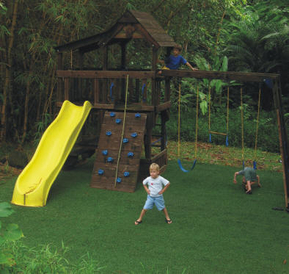 NyLawn's playground cover can also be installed at homes with playground structures.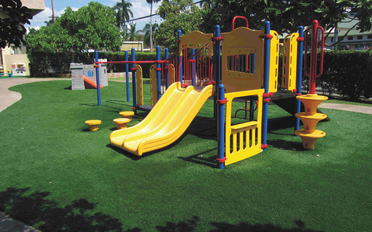 Maryknoll School Playground, Oahu
NyLawn's Playground Surfacing can be installed under any type or brand of playground equipment in Hawaii.
Playground Safety Surfacing Inlays
| | | |
| --- | --- | --- |
| | | |