NyLawn's artificial grass pet lawn is pet friendly and safe for pets of all sizes.
An expert installation providing good drainage and secured edges prevents odor,
pests and chewing. No more digging holes and dirty paws!
Environmentally friendly also makes it pet safe by eliminating the use of
fertilizers, pesticides and herbicides.
Shear Magic Pet Salon in Hilo offers day care, grooming, training and boarding. NyLawn helps keep them clean and happy!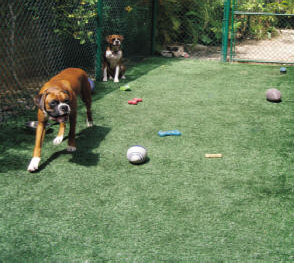 These Boxers love their synthetic turf pet lawn. So do their owners!
"It has been over a year since you installed your grass in my cat sanctuary and I thank you daily for the much improved quality of
our lives with such an incredible product. The cats love to lie on
it in the sun, as well as sleep out under the stars....... they have abandoned their
cozy little fake fur beds for the cool
grass....and when it rains, I no longer dread the mud on their paws, and
mine...and
no more puddles, as it drains with such ease. We rake up the fallen
leaves every couple of weeks and just hose it down once a month... It is home turf to 100 cats and it looks and feels just as good as it did
that first day.
Pretty amazing! I cannot thank you enough!"
Gloria Hoku Lele foundation